Invisalign® – Pittsburgh, PA
A Virtually Clear Way to Straighten Your Teeth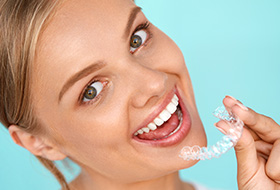 At Advanced Dental Solutions of Pittsburgh, Dr. Rairigh can help you achieve a straighter, more beautiful smile with Invisalign® in Bridgeville. An alternative to metal braces, Invisalign® is a virtually invisible way to straighten your teeth using a series of clear, removable aligners that are custom-made for you. Unlike traditional braces, you will be able to enhance your smile discreetly. Each aligner is worn for approximately two weeks and is meant to have a minimal impact on your lifestyle while straightening your teeth. They're custom-made for your teeth and are meant to move your pearly whites little by little until the desired position of your teeth is achieved. If you're interested in getting started with Invisalign®, contact our office to schedule an appointment.
How Invisalign® Works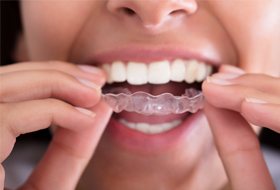 Once we decide that Invisalign® in Upper St. Clair is the right option for you, we will begin by taking X-rays and photos of your smile. From there, an impression of your teeth is taken. After we have the X-rays, photos, and impressions, we create a custom treatment plan using the Invisalign software. Each patient has a plan customized to reach the best results for their smile.
Once a plan is established, you will receive 20 to 30 aligners that will be worn for approximately two weeks each. Every patient's solution varies and with that, so do the number of weeks of treatment.
One of our favorite things about Invisalign® is that we can virtually view your treatment plan and the final results prior to beginning your treatment.
It is expected that you will wear your aligners for 20-22 hours each day to prevent a delay in treatment. If you follow this daily timeline, remember to remove your aligners prior to eating and drinking, and clean them every day, you'll see results in less time than it takes with traditional braces.
Indications for Invisalign®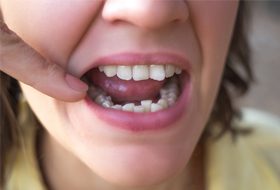 Invisalign® is one of the most versatile methods of orthodontic treatment. Not only can it straighten teeth, but it can fix other dental issues that are commonly seen, including:
Crowded Teeth
Your cosmetic dentist in Bridgeville can use Invisalign® to move and shift teeth that are crowded in your mouth. Whether it is your top or bottom row of teeth that are overcrowded, Invisalign can come in and gently move your teeth into proper alignment. Without this useful treatment, you will find it harder to keep your teeth clean, thus, facing a multitude of dental problems, including gum disease and tooth decay.
Spaces Between Teeth
A gap between your teeth when you're a child is cute; however, most people would agree that as you get older, these spaces can become problematic when it comes to trapped food and growing bacteria. Clear aligners are a great way to bring your teeth closer together, eliminating the unnecessary space existing between them.
Bite Alignment
If your bite is off, you may already be facing problems with jaw pain, excessive pressure on different areas of your teeth, and difficulty standing in front of a mirror because of the embarrassment you feel. Overbites, underbites, crossbites, and even open bites can present many problems as it pertains to your oral health, but luckily, Invisalign® can move your jaw (and your teeth) in way that brings it into proper alignment, alleviate the pain and discomfort felt by additional pressure and pain in your jaw.
Benefits of Invisalign®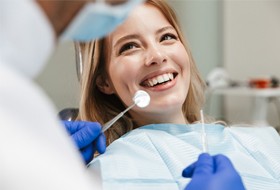 They are clear!
Invisalign® has a minimum impact on your lifestyle
The aligners are removable to allow for proper dental hygiene
No metal brackets or wires
Great for adults or those working in a professional setting
Minimal irritation to the mouth and gums
No metal or wire adjustments
Results can be permanent if retainers are worn consistently
Cost of Invisalign
Each patient has different needs, so there is no set price when it comes to receiving treatment with Invisalign. If your dental problem is minor, you may need a fewer number of aligners, whereas, if you have a bite alignment problem in addition to crooked teeth, you might be looking at 12-18 months of treatment more aligners. Some of the factors considered when determining the cost of treatment include:
The number of clear aligners you will need to wear throughout the treatment
The severity of your particular dental problem
Any pre-orthodontic work (i.e. tooth extraction)
Your age