Full and Partial Dentures in Pittsburgh
By Our Dentist Dr. Dan Rairigh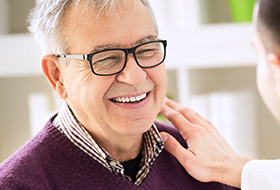 Dentures are used to replace missing teeth for patients with no remaining teeth (complete dentures) or used to replace several missing teeth (partial dentures). Dentures will improve your smile and facial appearance.
What are Dentures?
Often patients take their teeth for granted. They don't realize the difficulties with speech, eating, and social interactions that may arise after teeth have been extracted.
Ideally, patients should do all they can to keep their natural teeth because when a patient is left without teeth, they have very few options. The first is to remain edentulous (no teeth), while another is to have full dental implants placed. You can also have a denture made or a combination of the denture and implants.
The most affordable option to replace missing teeth is dentures.
What are the Benefits of Dentures in Pittsburgh?
The patient is able to chew.
Speech is better when teeth are present to help with certain sounds ("s," "f," etc).
Improved confidence in social interactions.
The denture can be designed to "fill" facial features and reduce sunken skin.
Your smile is improved.
What are the Disadvantages of Dentures in Pittsburgh?
They can feel very bulky.
Patients often have insecurity with "artificial" teeth.
There can be difficulty chewing and speaking without denture movement.
Bone loss will occur that is irreversible.
Alternative Options to Dentures
Traditional dentures – This option is the most economical but does have some issues with staying in place.
Suction cup lining
Mini dental implant stabilization
Standard implant stabilization –We will use 2-4 large diameter implants.
Full implant loaded crowns – This option is permanent and non-reversible.
Why Would Someone Need to Get Dentures?
Over time, a patient's teeth have gradually been extracted due to injury or advanced decay.
The majority of remaining teeth are broken and not restorable; alternatively, finances are limited.
Severe, untreated periodontal disease has rendered the teeth unviable.
Understanding the Cost of Dentures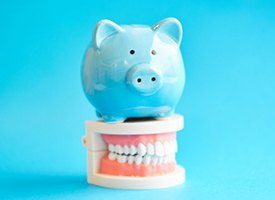 Dentures are one of the most popular ways to replace missing teeth, possibly because they're also one of the most affordable. Of course, numerous factors come into play when determining the cost of dentures in Pittsburgh, so you're very unlikely to pay the exact same amount as any other patient. Our friendly team members would love to help you explore your options for comfortably fitting the price of your new pearly whites into your budget.
Factors That Affect the Cost of Dentures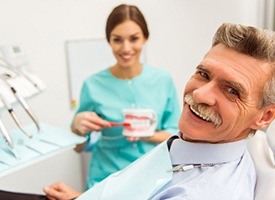 One factor that influences how much dentures cost is the preparatory work you may need before you can receive your prosthetic. For example, some patients need to have one or more of their natural teeth removed in order to make room. Others may require gum disease therapy to ensure their dentures have a healthy foundation. These procedures each incur their own costs.
After any preliminary treatments are squared away, we have to consider the type of denture you're getting as well as the materials it's made from. Full dentures naturally have a different price tag than partials. Also, the base of the denture (and the artificial teeth) can be crafted from various materials, such as porcelain or acrylic. Your denture dentist in Pittsburgh will help you understand the benefits of each option and how they affect your overall treatment costs.
Are Implant Dentures More Expensive?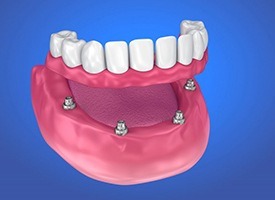 Implant dentures cost more at first than regular dentures. That's because you must pay for the dental implant posts as well as their surgical placement in your jaw. However, you should consider their long-term value.
While traditional dentures need to be adjusted every year or two and replaced entirely every five to seven years, implant dentures can last for 30+ years with the right maintenance. Frequently replacing a traditional prosthetic can rack up costs over the years that may exceed the initial higher price of implant dentures. Not to mention, they feel more natural than conventional dentures, making them a worthwhile investment for many patients.
Does Dental Insurance Cover Dentures?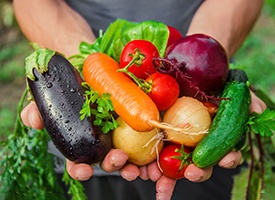 Most dental insurance providers consider dentures to be a "major restorative treatment," meaning they will often cover up to 50% of the cost. For insured patients, this can reduce denture costs by hundreds or even thousands of dollars! Keep in mind that if you choose implant dentures, your insurance likely won't cover the implants themselves, but they may lower the cost of the prosthetic.
At Advanced Dental Solutions of Pittsburgh, we're happy to file claims for most of the leading dental insurance plans, even those that are out-of-network. However, we're in-network with a number of plans, including:
Other Options for Making Dentures Affordable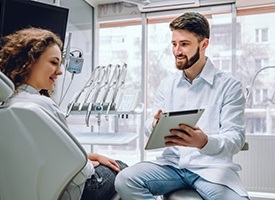 If you don't have insurance, or your plan doesn't provide suitable coverage, don't worry! We can make dentures in Pittsburgh affordable thanks to our partnership with CareCredit. This third-party lender offers low- to no-interest payment plans based on credit approval. That way, you can pay for your dentures in budget-friendly monthly installments. Just ask our team how we can help with the application process!
More Questions about Dentures?
Contact us today by calling 412-854-2310 and find out more about services provided by Dr. Dan Rairigh's office in the Pittsburgh area.
Denture FAQs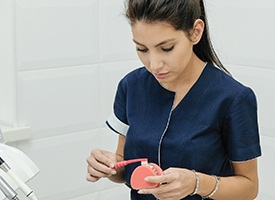 If you've experienced significant tooth loss in one or both arches, dentures are a great option to rebuild a beautiful smile. Although they have been used for generations to replace missing teeth, it's normal to have a few concerns before you're ready to commit to them. Don't worry, we'll explain more about the treatment during your initial consultation. While you wait for your appointment, here are the answers to a few of the most common questions patients ask us about dentures to help you make the best decision for your smile.
Do dentures look and feel natural?
Let's face it, dentures have a bad reputation for looking and feeling fake. This might have been true in the past, but they have undergone many improvements over the years. As a result, they are more realistic than ever, so you can smile confidently and enjoy many of your favorite foods. It's important to have realistic expectations when receiving your new dentures. Although they will allow you to smile, speak, and chew with ease, they have limitations. If you're interested in a close replica of your real teeth, ask us about securing your denture with dental implants.
Do I need to take my dentures out at night?
Upon receiving your dentures, we'll recommend you wear them as much as possible to help your mouth adjust to them quicker. After a few days, it's best to take your dentures out at night, which is important for several reasons. Although no one wants to be caught without their teeth, your gums and oral tissues need a chance to rest. Not to mention, soaking your denture at night kills harmful bacteria that can damage your new teeth or lead to unpleasant odors. Whenever your denture isn't in your mouth, make sure it is kept moist to prevent it from warping.
How much do dentures cost?
There isn't a set fee for dentures because their price is determined by your individual treatment plan, like the materials used and if you need to replace both arches. We'll provide you with a custom estimate during your initial consultation and discuss your payment options. We'll help you find the solutions you need to rebuild your smile without breaking the bank.
Can I use my dental insurance?
Every policy differs, but most plans offer some coverage for dentures. After paying your premiums and reaching your deductible, you can use your policy to help offset the amount you need to pay out-of-pocket. A member of our team will work on your behalf to file the necessary claim forms to maximize your benefits. We will explain how your policy is being used and if you owe a remaining balance.
How long do dentures last?
Modern dentures are made of durable material to last for longer than ever. On average, they need to be replaced every 5 to 7 years. You can promote how long they last by caring for them each day and visiting your dentist regularly for maintenance. If you want a more permanent solution, ask us about adding dental implants to your treatment plan.