Denture Implant Failure & Salvage – Pittsburgh, PA
Maintain Your Dental Implant Results
Did you know that dental implants usually have a success rate of 95% or more, even 10 years after being placed? Even so, there's an incredibly rare chance that they can still fail, whether you've had them for several years or a couple of weeks. For this reason, it's best to know how this can happen, the symptoms to look out for, and how our team can help provide dental implant salvage treatment to preserve your results. Read on to learn more or contact our office if you need help.
Why Do Dental Implants Fail?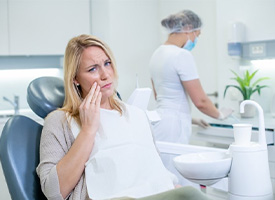 While rare, the biggest culprit of dental implant failure is peri-implantitis. This occurs when the surrounding gums become infected by harmful bacteria, which then attack and damage the connective tissues holding the posts in place. If unaddressed, the gum line and jawbone can start to deteriorate, making your implants less stable. In most cases, peri-implantitis happens because of poor oral hygiene. Dental implants can also fail due to other factors such as improper osseointegration, physical injuries, and medical issues such as cancer.
Symptoms of Failed Dental Implants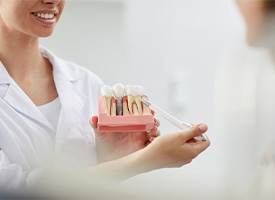 Some of the most common symptoms of dental implant failure include the following:
Loose implant: This problem could either be the restoration itself is loose or the implant has become compromised.
Intense or unusual discomfort: It's normal to experience some soreness after your placement procedure. But once you've healed, your new teeth should feel comfortable and natural.
Trouble chewing: You should be able to enjoy your favorite meals after your implants have recovered and you've received your restoration(s).
Swelling and bleeding: Any inflammation and/or bleeding can be an indication of an infection and will need to be addressed right away to avoid major problems.
How Dental Implant Salvage Works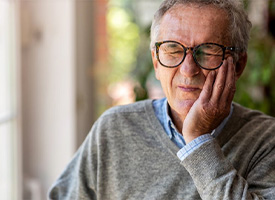 If there is an issue with your dental implants or your new teeth have become compromised, notify our team immediately. We'll evaluate your situation, review your symptoms, and walk you through your treatment plan to preserve your titanium posts. If possible, we can provide deep cleaning, antibiotics, and any other methods to control infection. The sooner we're able to treat the underlying problem, the less likely we'll have to completely remove the implant. Even if this is necessary, we'll be sure to get you back to oral health before providing you with a new one!