Pittsburgh Dental Implants
Bring Missing Teeth Back to Life
While there are numerous treatments that can restore missing teeth, dental implants are simply in a class of their own. They actually restore both the root of a tooth as well as the visible portion, delivering the most natural-looking and reliable results possible. With them, we can replace any number of missing teeth, and thanks to Dr. Rairigh's extensive training, he can actually handle the entire procedure from start to finish in order to streamline your process. If you're ready to get rid of the gaps in your smile, dental implants can help you do it, so contact us today for an appointment.
Implant Placement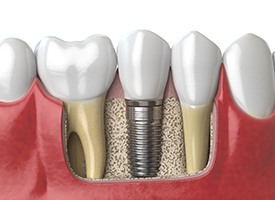 A dental implant is actually a small titanium post that is placed directly into the jaw to act as a new tooth root. There, it not only provides an extremely stable base for replacement teeth, but it also can prevent and even reverse the bone loss that is so common after tooth loss.
In order to get dental implants, you will first need to undergo a minor surgery. Dr. Rairigh can do this in-house, and once it is completed, you'll be given a few months to heal before you return to our office to receive your final replacement teeth.
3D Cone Beam X-ray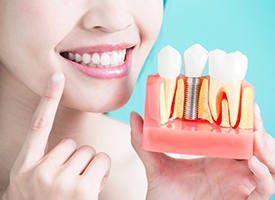 Planning the surgical placement of new dental implants is an important process, as we want to ensure the best outcome possible for patients. That's why Dr. Rairigh will use state-of-the-art Cone Beam technology to supplement his approach, capturing highly detailed, three-dimensional images of the teeth, jaw, and related bone structures. Our team will be able to closely examine the proposed implant site and also make sure to avoid structures like sinuses, nerves, and nearby teeth. The result? Healthier, longer-lasting tooth replacement!
3D Printed Surgical Guides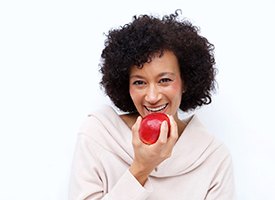 While virtual images and models are extremely helpful when planning surgical implant placement, a physical guide can also provide valuable benefits to Dr. Rairigh and his team. After confirming every aspect of the treatment process (such as the location, the angle, and the size of the placed implant) through a digital guide, we will export it to our 3D Printer. The new, physical appliance is completely safe for oral contact and will be used by our team throughout the actual procedure to ensure that the plan is followed to the closest degree possible.
Implant-Retained Crowns & Bridges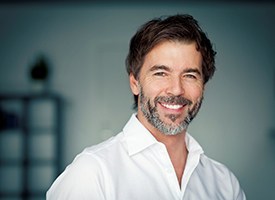 As we touched on above, dental implants can be used to replace any number of missing teeth. For a single tooth, we'll use what is called an implant-retained crown. This will consist of a custom-made, all-porcelain crown that is attached directly to an implant using a metal connector called an abutment. This will make it just as strong and stable as the surrounding teeth, and the porcelain will ensure that it looks completely natural as well. You'll even be able to maintain it just like your other teeth with regular brushing and flossing.
For someone who is missing a few teeth in a row, these implant crowns can also be used to support a bridge. Two crowns will be placed on either side of the space in a person's smile, and these will be bonded to prosthetic teeth. Compared to a traditional bridge, implant-retained bridges have a better hold, last longer, and look more natural as well.
Implant-Retained Dentures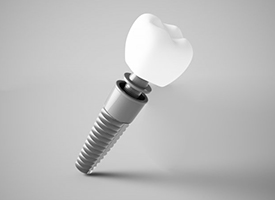 Traditional dentures are notorious for not staying in place and limiting a person's diet, but thanks to dental implants, both of these problems can be handled. With an implant-retained denture, the prosthetic will actually snap onto multiple dental implants placed into a person's mouth, anchoring it directly to the jawbone just like natural teeth. This method of retention has numerous advantages over regular dentures:
More Stability: Implant-retained dentures are much less likely to slip and slide around the mouth compared to removable dentures.
More Consistency: Thanks to the support provided to the jawbone by the implants, the denture will maintain its initial fit for much longer.
More Natural: Implant-retained dentures typically do not need to be removed, and the prosthetic itself tends to be much smaller, offering a more lifelike result overall.
More Bite: Patients with implant-retained dentures will also enjoy a much stronger bite compared to normal ones, allowing them to eat a wider variety of foods with relative ease.
Understanding the Cost of Dental Implants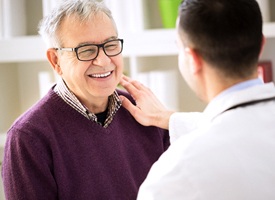 The cost of dental implants varies from patient to patient. When you visit us for your consultation, we'll provide you with an estimate for the price of your new smile. We'll also familiarize you with the different stages of treatment so you can prepare to pay for each step of the process as you undergo it. Oftentimes, dental insurance and low-interest financing allow patients to fit their new smile into their budget. Dental implants might be more affordable than you think!
Learn More About the Cost of Dental Implants
Dental Implant FAQs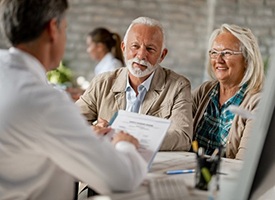 Still have questions? You're not alone! Replacing your missing teeth with dental implants in Pittsburgh will dramatically benefit your oral health, but we understand that it's still a big decision to make. Dr. Rairigh has been performing implant procedures for quite a while and has helped countless patients understand more about the process. To help you make the right decision for your needs, we've put together answers to the most common dental implant FAQs we hear. But if you still have questions that aren't addressed below, you can get in touch with us any time!
Is Getting Dental Implants Painful?
Many people compare their implant surgery to having an extraction and are surprised at how much easier it was than they expected. The appointment generally takes 1-2 hours per implant, and Dr. Rairigh begins by making sure the area is fully numbed. We also offer multiple sedation options to help everyone feel at ease.
After your implants have been placed in your jaw, you can expect mild to moderate swelling and tenderness in the area, so we recommend that you take a few days off to rest. We'll also discuss pain medications as necessary. Fortunately, our patients often report that their pain was very manageable.
Can I Have the Entire Implant Procedure Done Here?
Yes! Dr. Rairigh completed extensive training in implant dentistry after dental school and also uses the latest technology to provide high-quality treatment. In fact, in 2014 he won the prestigious Duke Heller Award for excellence in implant dentistry. Our patients love the fact that they don't have to have their surgery somewhere else and can have continued care with a team they know and trust.
Does Technology Affect Implant Success?
The right technology makes the implant procedure more accurate, efficient, and comfortable. We use a 3D Cone Beam scanner to take a highly-detailed, 3-dimensional image of your teeth and jaws, telling us exactly where to place the implant. For ultimate precision, we also use a 3D surgical guide for even greater accuracy.
These tools allow for better quality from the very beginning, which makes the already high chances that your dental implants in Bridgeville are successful even higher.
Do Implants Require Special Maintenance?
One of the biggest advantages of dental implants in Upper St. Clair is their longevity. With proper maintenance, they can last several decades or a lifetime. Fortunately, caring for your implants is straightforward and uncomplicated:
Regular checkups – Dr. Rairigh will keep a close eye on your implants during your routine checkups. In the rare event that problems develop, he can often catch them and treat them to prevent implant failure.
Oral hygiene - Take great care of your gums by brushing at least twice a day (electric toothbrushes are always helpful) and flossing at least once. If you haven't seen the correct way to floss around an implant, ask us for a demonstration. Some patients can also benefit from using an oral irrigator.
Wear a nightguard if necessary - Clenching and grinding put a lot of force on implants, potentially making them loose over time. Wearing a protective nightguard can prevent this.
Don't use tobacco – Smoking significantly increases the risk of implant failure.
Thankfully, implant failure is relatively rare. With good habits and regular checkups, you can enjoy your implant for life!