Implant-Retained Dentures – Pittsburgh, PA
Improve Your Ill-Fitting Dentures with Dental Implants!
If you've been using a denture for a long time now, you're probably aware of the drawbacks they tend to carry. For one, they aren't designed to last for life and require a significant amount of routine maintenance to keep functioning. Alternatively, implant-retained dentures provide a way to replace many teeth at a time while still offering a long-lasting solution. If you're tired of your current restoration, Dr. Rairigh can not only create your denture but place your implants entirely in-office. Contact his practice today to learn more about the process and get started transforming your lifestyle!
How Do Implant-Retained Dentures Work?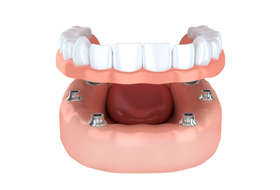 Implant-retained dentures utilize a gum-colored base and porcelain teeth just like traditional dentures. In contrast, implant-retained dentures do not rely on the natural suction of the gums nor metal clasps to remain stable. Instead, this option connects to a series of implants placed directly inside the jaw. Implant-retained dentures can be made to be either fixed or removable, depending on your preference. Each come with their own sets of benefits that you'll be able to consider with Dr. Rairigh during your consultation. Regardless of your decision, you can expect a denture that's significantly easier to use when it comes to smiling, eating, laughing or basic tasks that may have been previously difficult with your denture.
Am I a Candidate for Implant-Retained Dentures?
Since this tooth replacement option utilizes dental implants, you're going to have optimal oral health before treatment can begin. For example, healthy gums are crucial to ensuring that the implant effectively heals with your existing oral structures. Additionally, having sufficient bone volume for the implants to adhere to is necessary for long-lasting success. The dentist will examine these areas thoroughly during your consultation to confirm your eligibility for dental implants. The good news is the advancements in dentistry have made it easier than ever to receive dental implants, even if you've had dentures for a long time.
The Implant-Retained Dentures Procedure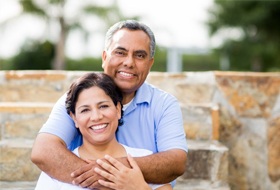 After confirming your eligibility and creating a detailed treatment plan, Dr. Rairigh will schedule your surgery for a later date. The process consists of three stages; the placement stage, the healing stage and the permanent restoration stage. During the initial surgery, the implants are placed and given several months to integrate with your existing jaw bone. You'll be given a temporary denture if you don't have a denture already as your gum and bone tissue heal. During your second surgery, a set of healing caps are placed in order to help the gum tissue heal around the implants properly. After about two weeks of healing, the caps are replaced with permanent abutments and an impression will be taken to create your permanent denture. During your initial denture try-in, we'll confirm if any adjustments need to be made to your permanent restoration.
Benefits of Combining Dentures & Dental Implants in Bridgeville
Using dental implants in tandem with dentures offer many unique benefits. These include:
A longer-lasting solution to tooth loss
A more stable denture and expanded diet
A more natural appearance (thanks to bone stimulation and improved blood flow to facial tissue)
Easier maintenance
Improved oral and overall health