Cosmetic Dentistry for Pittsburgh
Turn Your Smile into a Work of Art
Dr. Dan Rairigh, in addition to being a dentist, is also an accomplished painter, so if anyone understands the aesthetics of the perfect smile, it's him. Whether you simply want a touch-up in time for a special event or you want to get rid of a flaw that has bothered you for years, he can help you do it, and you'll absolutely love the results. At our practice, your smile will literally be crafted by an artist with over a decade of experience. To start getting your dream smile today, contact us for an appointment.
Porcelain Veneers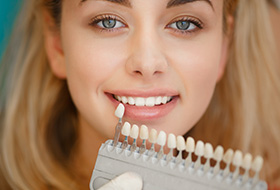 With porcelain veneers, we're able to eliminate a wide variety of imperfections with just one simple procedure, including:
Stains
Chips
Cracks
Gaps
Undersized or misshapen teeth
Slightly rotated teeth
They are extremely thin ceramic shells that are fitted to the front of the teeth, and they are custom-made to improve their appearance in every way. With them, you can get everything from a minor improvement all the way to a dramatic makeover. It all depends on your desires.
Learn More About Porcelain Veneers
Metal-Free Restorations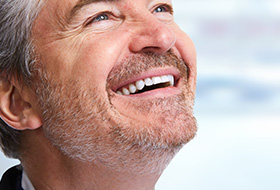 If one of your front teeth become damaged or decayed, we'll take extra special care of it using a metal-free, all-porcelain restoration. Dental porcelain is just as strong as traditional meta; it can also be shaped and shaded to perfectly mimic natural enamel in every way, even down to how it reflects light. Between Dr. Rairigh's artistic touch and this material, he can create restorations so lifelike that even our staff has trouble distinguishing them from real teeth.
Direct Bonding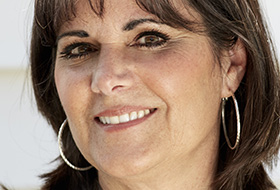 If one small chip, crack, or gap is throwing off the entire look of your smile, we can take care of it in no time thanks to direct bonding. This treatment uses a composite resin, and with it, Dr. Rairigh can literally sculpt any tooth to perfection. Even better, the entire procedure usually takes less than an hour, is completely painless, and the results can easily last for 10 years or more with the proper maintenance (brushing, flossing, regular dental visits, etc.)
Teeth Whitening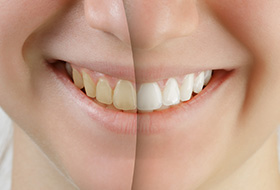 A bright, white smile can easily take years off of your appearance, which is why we're happy to offer two kinds of professional teeth whitening. If you want quick results in time for an upcoming special event, our in-office treatment can be completed in less than an hour. Alternatively, if you would like to whiten on your own schedule, we can provide you with your own custom-made kit that is specially designed for just your teeth. Whichever one you choose, they can easily make your smile up to eight shades whiter in no time!
Learn More About Teeth Whitening
Smile Makeover
Does your smile need a do-over? Do multiple dental issues cause you to always think twice before smiling? If so, then a smile makeover from Dr. Rairigh can turn that all around. Using a customized plan that combines multiple procedures into one comprehensive treatment, he can completely restore your smile's beauty and function at the same time. No matter what your teeth look like now, a smile makeover will make you want to show them off all the time.
Learn More About Smile Makeover
Wrinkle Treatment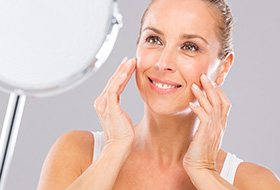 At our practice, you can get a smooth, youthful face to go with your beautiful, new smile! Dr. Rairigh has taken special training to provide non-surgical wrinkle treatments right in our office so you can walk out looking like the most beautiful version of yourself. Wrinkles on your forehead, around your eyes, nose, and lips can quickly disappear thanks to a few well-placed, painless injections, and the results can last for months at a time.