Meet Your Pittsburgh Dentist
Josh Culver, DDS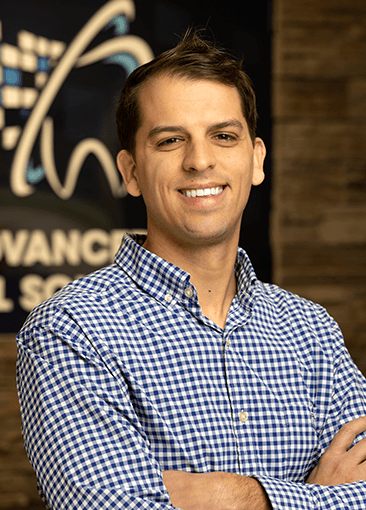 Dr. Culver completed his undergraduate degree with honors at West Virginia University with a major in Biology and minor in Chemistry. He was then accepted to West Virginia University School of Dentistry and graduated with a Doctor of Dental Surgery degree. Dr. Culver was among the first in the nation to graduate with training in mini-implants and laser dentistry. He received multiple honors for his commitment to community involvement and was awarded the prestigious AAOMFS Oral Surgery Award.
Upon graduation, Dr Culver sought to develop the training to provide his patients a comprehensive experience; too often patients have to see multiple different specialists with multiple appointments. With Dr. Culver's skillset, everything can be completed from start to finish by the same doctor in the same office. From IV sedation and complex implant rehabilitation to cosmetic cases and wisdom teeth extractions.
Dr. Culver continued his education at the Pikos and Misch Implant Institutes focusing on advanced bone grafting, block grafts, PRP/PRF and sinus elevation procedures. He has also attended the Midwest Implant Institute, America's oldest implant institute.
In 2017, Dr. Culver completed the MALO CLINIC Education Fellowship which is dedicated to oral rehabilitation with dental implants on complex cases. Learning directly under Dr. Paulo Malo, the creator of the All on 4 procedure, Dr. Culver developed the knowledge and skills to master the most complex oral rehabilitation challenges. The completion of the fellowship made him one of the youngest in the United States to finish the rigorous training.
Dr. Culver has also adapted a digital approach to his dentistry. With CAD/CAM dentistry, 3D printers and CBCT technology, Dr. Culver designs his surgical and cosmetic cases digitally before starting cases. This technology allows more predictability, less healing time, and better results. It also helps patients to visualize the outcome prior to starting the work.
He lectures yearly at the West Virginia School of Dentistry and is a member of the International Congress of Oral Implantologists, American Academy of Cosmetic Dentistry, American Dental Association, and the Academy of General Dentistry. Dr. Culver has been voted a top dentist in the Pittsburgh area by his peers. Aside from practicing dentistry, Dr. Culver loves spending time with his family and friends. He is married to his high school sweetheart, Autumn, and is a proud father of four amazing kids. Dr. Culver also enjoys sports, travel, and reading.