Single Tooth Implants – Pittsburgh, PA
Regain a Complete, Healthy Smile
Did you know that even a single missing tooth can lead to serious oral health consequences? Your remaining natural teeth may drift out of alignment, leading to an improper bite. The bone that once supported the tooth will begin to deteriorate. You may even experience further tooth loss. Plus, a missing tooth comes with significant aesthetic consequences and can seriously damage your confidence. Really, you have every reason to fill in the gap in your smile.
That's where single tooth dental implants in Pittsburgh and Bridgeville come into the picture. Dr. Rairigh can use this treatment method to seamlessly replace your missing tooth and prevent future dental problems.
Tooth Replacement Options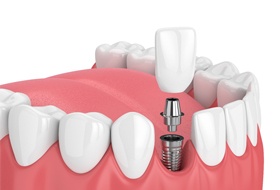 There are essentially two ways to replace a single missing tooth: with a traditional fixed bridge or a single tooth implant. A traditional fixed bridge, sometimes called crown and bridgework, consists of two crowns that get placed over the teeth that are adjacent to the empty space (the abutment teeth). The crowns support an artificial tooth that "bridges" the gap. Many patients choose a bridge because it is a reliable and relatively quick and affordable way to replace a tooth.
Unfortunately, a fixed bridge comes with a few disadvantages. For example, placing one requires that Dr. Rairigh files down the abutment teeth, removing healthy dentition so the crowns will fit properly. Also, the bridge does nothing to replace the root of the missing tooth; it replaces only the tooth's top portion.
A dental implant, on the other hand, is a totally self-supporting tooth replacement solution. It is superior to a fixed bridge in a number of ways.
What Is a Single Tooth Implant?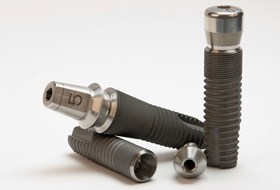 A dental implant is a small cylinder, usually made out of a titanium alloy, that Dr. Rairigh places beneath the gum line during a minimally invasive surgery. As your body heals from the surgery, the bone around the implant fuses to the metal, thus enabling the implant to act as a substitute for the root of the missing tooth. After sufficient healing has occurred, a beautiful, custom crown goes on top of the implant to replace the visible portion of the missing tooth.
Benefits of Single Tooth Implants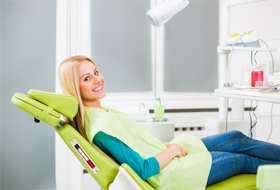 Some of the most outstanding benefits of single tooth dental implants include:
Self-supporting. Placing a dental implant usually does not require that Dr. Rairigh modifies or extractions any of the remaining natural teeth.
Bone support. Since the implant stimulates the jawbone, it can help prevent the bone deterioration that occurs after tooth loss.
A dental implant may last for 30 years or longer with proper care, whereas a fixed bridge may last for just 10 years or so.
Function and aesthetics. A dental implant looks and feels so much like a natural tooth that you might even forget that it's there!
Easy maintenance. You can care for a dental implant in much the same way as you would care for a natural tooth.
Are you ready to replace your missing tooth and regain a healthy, complete smile? Contact our team today to schedule your dental implant consultation.