Implant-Retained Crowns and Bridges – Pittsburgh, PA
Modern Tooth Replacement to Restore Your Smile
When teeth are missing, you aren't only putting your smile and appearance at risk. You're also increasing your risk of future tooth loss as well as allowing neighboring teeth to shift into the empty space to compensate. To prevent this issue and restore your smile's functions to the fullest, dental implants can be used to replace single and multiple consecutive teeth more effectively than ever before. With the help of Dr. Dan Rairigh and his team, you can have your entire implant treatment take place in his practice for your convenience. Contact his office to schedule your next consultation!
Benefits of Implant-Retained Crowns and Bridges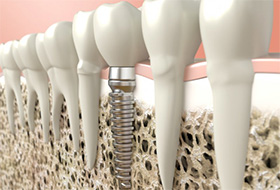 If you were to replace a missing tooth via the more traditional route, you would need to have neighboring teeth buffed down so they could properly hold a dental bridge. When you choose dental implants to anchor a restoration, there's no need to modify your existing tooth structure, which is always a positive feature when it comes to tooth replacement.
Furthermore, replacing either one or multiple teeth via dental implants works to stimulate your bone tissue, ensuring that you'll have the fullest biting force possible. The stronger your bite, the easier and more natural it will feel to eat the foods you enjoy. You'll also work to maintain your appearance as implants reestablish blood flow to your face and cheeks. This way, you prevent premature aging and keep your youthful appearance for many years to come.
Learn More About Single Tooth Implants
The Implant Process
Treatment begins with a consultation, which includes a thorough examination of the condition of your existing oral structures. If determined eligible, Dr. Rairigh will schedule your surgery for a later date for implant placement. The implant process consists of placement, healing and restoration stages. The placement stage involves opening gum tissue to access the alveolar (jaw) bone tissue and placing the implant inside. After sealing the gum tissue, the implant is given several months to heal. Once the healing stage is complete, you'll come back to have an abutment placed, which connects the restoration and implant together. To create the restoration, an impression is taken and used as a model for your new crown or bridge.
How to Care for Dental Implants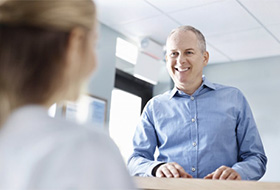 Caring for your dental implants is no different than practicing routine at-home oral care. This means you should be brushing twice a day with fluoridated toothpaste and flossing daily to prevent plaque buildup, as well as visiting Dr. Rairigh for checkups and cleanings once every six months. Doing so allows him to confirm that no damage or complications are present with your implant and that you're doing everything you need to keep it healthy.
Understanding the Costs
When paying for your dental implants, take note that your treatment may cost more or less depending on your needs. Those who need a more complex restoration to replace teeth will also need more than one implant. With that said, some dental insurance plans can help offset the cost of your implants, particularly when it comes to the restoration. However, most plans do not cover the placement or implant. This all depends on your unique plan and its benefits.