April 16, 2021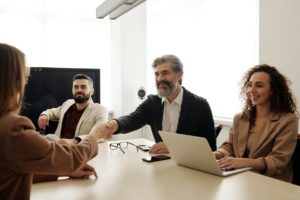 It's normal for your teeth to darken over the years. Whether from age, poor oral hygiene, or certain lifestyle habits, a discolored smile can affect your self-esteem. Unfortunately, your confidence isn't the only thing that will suffer. Your career can also take a hit. Believe it or not, a new study found a brighter smile can lead to better job opportunities. Here's how you can take your career to the next level with teeth whitening.
Boost Your Career with Teeth Whitening
People often use facial features to form an opinion about someone when meeting them for the first time. Although you shouldn't judge a book by its cover, people who have white teeth are often perceived as being more intelligent, professional, and confident.
A recent study by Kelton Research found people who have a bright smile are more likely to be hired. The study surveyed patients before and after undergoing a professional whitening treatment who interviewed for various positions. The results concluded the appearance of their teeth played a role in employment. In fact, 58% of the study participants had a higher likeliness for employment. Not to mention, 53% received larger salary offers.
Overall, the study found participants were viewed as having a positive attitude, a professional appearance, and higher confidence after their whitening treatment. Based on the information gathered, it might be time to reveal a brighter smile if you're ready to give your career a boost.
Options for Teeth Whitening
There are many over-the-counter products claiming to provide amazing results. Although they may seem like a convenient solution, you'll likely be disappointed because they don't contain professional strength whitening agents. The only way to achieve drastic, lasting improvement in stains and discoloration is with a whitening treatment from your dentist.
You have more options than ever to get the bright smile you deserve. Your dentist will help you choose which treatment is best for you, such as:
In-Office System: You can get your teeth as many as 8 shades whiter in about 1 hour using an in-office system. A highly concentrated whitening agent is applied to your teeth, which is activated using a special light to combat stains.
Take-Home Kit: You can achieve in-office results from the comfort of your own home. Your dentist will give you everything you need to whiten your teeth around your schedule. In about 2 weeks, your teeth will be significantly whiter.
Combination: In some cases, dentists recommend a combination of in-office and at-home solutions to treat discoloration.
Invest in a Brighter Smile
Don't let discolored teeth prevent you from reaching your career potential. Invest in a lucrative future with teeth whitening.
About Dr. Josh Culver
Dr. Culver earned his dental degree at the West Virginia University School of Dentistry and underwent advanced training in oral surgery. He regularly continues his education to provide superior services for his patients, including cosmetic dentistry. Dr. Culver will create the personalized plan you need to enhance your smile. Contact our office today to schedule your consultation.
Comments Off

on Can You Land a Job Faster with a Bright Smile?
No Comments
No comments yet.
RSS feed for comments on this post.
Sorry, the comment form is closed at this time.