March 14, 2021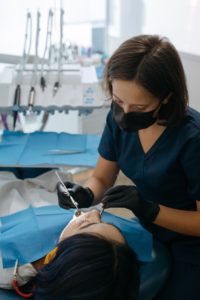 If your smile has suffered significant complications from decay, disease, or injury, you may be a candidate for full mouth reconstruction. Your dentist uses a combination of restorative services to rebuild or replace compromised teeth. Although every treatment plan is unique, here are 5 common procedures your dentist may recommend to rehabilitate your dental health.
1. Dental Crowns
A dental crown is a cap that's bonded over the entire surface of a tooth above the gum line. It offers an array of benefits, improving its overall color, shape, and function. Crowns are commonly used to repair a tooth that has substantial damage, such as from decay or a fracture. It's not uncommon for a restoration to be used along with another treatment, like root canal therapy or a fixed bridge. Rest assured, modern crowns are made of all-ceramic material, so they will look like real teeth.
2. Root Canal Therapy
A root canal is an endodontic procedure used to remove the inner layer of the tooth called the pulp. It is one of the most frequently performed restorative treatments, but it's only recommended when there aren't any other viable options to save a tooth from extraction. Although they have a bad reputation for being painful, sedation and anesthesia will keep you comfortable.
3. Dental Implants
A dental implant is unlike any other option to replace a tooth because it mimics the entire structure, including the root. As a result, it offers unmatched benefits, including over a 95% success rate. A dental implant can be used for a single tooth, multiple teeth, or an entire arch. As a nearly perfect replica of your real tooth, you'll enjoy a solution that looks and feels natural using a prosthesis that can last for decades with the right aftercare.
4. Fixed Bridges
Consecutive tooth loss is most often treated with a fixed bridge. An impression of your mouth is taken to recreate the portions of your missing teeth visible above the gums. The bridge is held in place by bonding crowns on the adjacent teeth. As an alternative to crowns, dental implants can also be used to support your bridge.
5. Tooth Extractions
Innovations in dentistry allow your dentist to preserve your natural teeth for longer than ever; however, there are times when one may need to be taken out. Your dentist will do everything they can to save your tooth, but if it is damaged beyond repair, it may be best to have it extracted. If a tooth is removed, your dentist will explain your replacement options, like using a dental implant.
You don't need to live with damaged or missing teeth. Your dentist can repair your smile with full mouth rehabilitation.
About Dr. Dan Rairigh
Dr. Rairigh earned his dental degree at West Virginia University School of Dentistry and completed additional training at the Dawson Academy for Advanced Dental Studies. Named Top Dentist by Pittsburgh Magazine, he has the qualifications and experience you can trust for full mouth reconstruction. Contact our office today to schedule your consultation.
Comments Off

on 5 Full Mouth Reconstruction Treatment Options
No Comments
No comments yet.
RSS feed for comments on this post.
Sorry, the comment form is closed at this time.