December 7, 2020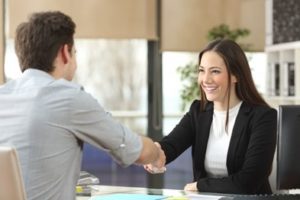 After years in the same career, you've decided to make a change. In addition to updating your resume, you may also consider updating your smile. Interviewing with potential employers for the first time can be stressful, but a straight, bright smile can give you a leg up on your competition. Keep reading to find out how getting cosmetic dental treatments in Pittsburgh could end up making the difference between having to continue your job hunt and filling out new-hire paperwork!
Gives Your Confidence a Boost
If your smile makes you feel self-conscious, you aren't alone. Studies show that 80 percent of American adults are not happy with their smile. Insecurity due to chipped or stained teeth can give the impression of self-doubt. Teeth whitening and dental bonding can straighten and brighten your smile, and give you confidence, which can encourage others to have confidence in you as well.
Creates Positive Exchanges
A kind, confident smile can encourage positive energy between two people. When interviewing, you want to promote yourself as the best candidate for the position. Flashing a self-assured smile at your interviewer can help them to feel more comfortable with you and possibly see you as a great fit for the company.
Promotes Competency
An excellent resume will definitely get you in the door, but the way you present yourself during the interview is what can truly help set you apart from the other candidates. A report published in the British Dental Journal discussed the link between dental hygiene and employment, solidifying the belief that your oral appearance can and typically will impact how others perceive you. A healthy, confident smile can suggest that you are easy to get along with, smart and productive.
Your smile can make or break the way others perceive you. Cosmetic dental treatments that can straighten misshapen teeth, fill gaps and correct dental discoloration can help you present yourself as a friendly, well-groomed individual. Schedule a visit with your cosmetic dentist in Pittsburgh to discuss which treatments could give you the beautiful smile you deserve.
About the Practice
Dr. Dan Rairigh and his team of dentists at Advanced Dental Solutions of Pittsburgh are committed to providing personalized, comprehensive dental care. He graduated at the top of his class from the West Virginia School of Dentistry and continued his education in natural, cosmetic and functional dental restorations at the Dawson Academy for Advanced Dental Studies. Dr. Rairigh and his team offer many services that include general dentistry, cosmetic dental treatments and more. They also offer sedation dentistry to patients who may feel anxious about visiting the dentist. If you're ready to transform your smile, visit the website or contact the office at (412) 854-2310 to schedule a visit today.
Comments Off

on How Cosmetic Dentistry Can Boost Your Career
No Comments
No comments yet.
RSS feed for comments on this post.
Sorry, the comment form is closed at this time.