July 5, 2020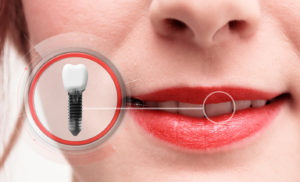 Dental implants are fast becoming the most popular way to replace missing teeth and restore one's self-confidence. In fact, according to the American Academy of Implant Dentistry, approximately half a million implants are placed each year in the United States! Are you tired of feeling embarrassed by the gap in your smile and want to know if implants are right for you? Keep reading to learn more about how dental implants in Upper St. Clair work and discover whether you are a good candidate for implant treatment.
What Are Dental Implants?
First, it is important to understand exactly how dental implant treatment works. A dental implant is a small titanium post or screw that is surgically inserted into the jawbone beneath the gums. Over the course of several months, this implant fuses with the bone through a natural process known as "osseointegration". Once the healing process is complete, the implant is ready to provide maximum support for a crown or other dental prosthetic. Dental implants are the only tooth replacement solution that restores both the visible tooth and the tooth root structure.
Major advantages of dental implants include:
Restore chewing power
Blend in seamlessly with natural smile
Prevent bite problems caused by shifting teeth
Do not rely on adjacent healthy teeth to stay in place
Last for decades or longer with proper care.
Who Is a Good Candidate for Dental Implants?
Dental implants are an excellent way to replace missing teeth in Upper St. Clair for most healthy adult men and women. Generally speaking, candidates for dental implants must have:
Excellent oral hygiene habits, such as brushing twice a day and flossing daily
Healthy gums
Strong and thick jawbone
If you have gum disease or a weak jawbone, you will first have to address these issues before you can move forward with implant treatment. Gum disease therapy can help overcome infected gums, while a bone grafting procedure can strengthen a weak jawbone.
Who Is NOT a Good Candidate for Dental Implants?
Dental implants are not the best tooth replacement option for everyone. Dentists often recommend alternative restorative treatments for the following types of patients:  
Heavy smokers
Individuals who have suffered significant jawbone deterioration
Young people whose jawbones are still growing
Patients who take steroids or immunosuppressant medicine
Pregnant women
To confirm whether dental implants are the best course of action to meet your smile goals, talk to your local dentist. During an initial consultation, he or she will carefully examine your gums, teeth and mouth before recommending dental implants or another appropriate treatment to restore your smile.
About the Author
Dr. Dan Rairigh is the dentist that Pittsburgh residents trust to restore their smiles with dental implants. He honed his skills by undergoing extensive dental implant training at the prestigious Midwest Implant Institute. As recognition of his commitment to excellence in the field of dental implantology, Dr. Rairigh was honored with the "Duke Heller Award" in 2014. To learn more about dental implants in Upper St. Clair and surrounding areas, visit the Advanced Dental Solutions of Pittsburgh website or call 412-854-2310.
Comments Off

on Are Dental Implants Right for You? Find Out Here
No Comments
No comments yet.
RSS feed for comments on this post.
Sorry, the comment form is closed at this time.