June 17, 2020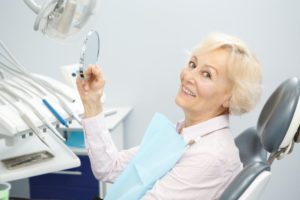 When it comes to replacing your missing teeth, you may be surprised to find that you have several options to choose from. However, while several dental restoration methods are available, only one can provide a permanent solution that effectively promotes your oral health: dental implants in Pittsburgh. This modern method is a comfortable and lifelike way to replace missing teeth both above and below the gumline. Read on to find out how they compare to other tooth replacement options and how they can improve your quality of life as well as your smile.
The Downsides of Dentures & Dental Bridges
You're probably familiar with traditional options for replacing teeth like dental bridges and dentures. While these are both quick, affordable, and minimally invasive ways to get back to enjoying a complete smile, they are not without their shortcomings. Here are a few downsides that you may not have considered:
Dental bridges rely on the surrounding teeth to stay in place instead of a tooth root. Oftentimes, this means that the healthy teeth on either side of a missing tooth need to have a layer of enamel removed to fit a dental bridge. This leaves them more vulnerable to potential decay and puts stress on the rest of your mouth.
Dentures are held in place on top of the gums with a close fit. However, they will inevitably lose their grip as your mouth changes, causing them to slip out of place while you talk and eat. Additionally, they'll need to be replaced or repaired every 10 years or so, which can add up to be quite costly in the long run.
Physical & Emotional Benefits of Dental Implants
If you want to replace your missing tooth with the next best thing, dental implants are the choice for you. Unlike other replacement options, they're designed to replace a tooth's roots as well as its crown. This means you'll be able to enjoy physically and emotional benefits like:
Keep remaining teeth in place: Teeth begin to shift and become crooked when there's a gap in your smile. A dental implant supports the teeth around it and keeps them in place.
Preserve your jawbone: Your jawbone begins to shrink away when a tooth goes missing. Dental implants continue to stimulate blood flow in the jaw to prevent this.
Maintain facial appearance: A shrinking jaw leads to a sunken, aged appearance in the facial features. Keeping your jawbone healthy with dental implants stops premature aging.
Eat, speak, and laugh freely: Your dental implants will never pop, slip, or shift out of place, so you can confidently show off your smile without distraction or embarrassment.
Enjoy life confidently: With no special care instructions or dietary restrictions, you are free to enjoy a simple dental care routine, all your favorite foods, and peace-of-mind knowing that your smile looks and feels its best.
No matter how many teeth you're missing, dental implants can help rebuild your beautiful, healthy, and complete smile. Talk to your dentist about budget-friendly dental implants in Pittsburgh to see if they're the right option for you!
About the Author
Dr. Dan Rairigh of Advanced Dental Solutions of Pittsburgh takes pride in improving his patients' quality of life by enhancing their smile. He is a graduated top of his class at West Virginia University School of Dentistry and completed extensive dental implant training at the prestigious Midwest Implant Institute. The combination of his advanced training and the latest dental technology allows him to personally ensure you are as comfortable and confident as possible during your treatment right here in his Pittsburgh office. If you have more questions about dental implants, he encourages you to contact him via his website or at (412) 854-2310.
Comments Off

on Why Are Dental Implants the Best Way to Rebuild My Smile?
No Comments
No comments yet.
RSS feed for comments on this post.
Sorry, the comment form is closed at this time.