May 10, 2020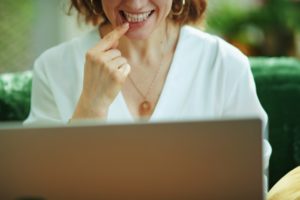 To protect yourself and your family from the COVID-19 pandemic, you have been told to stay home as much as possible, especially if you are a higher risk member of the community. You still go to the grocery store, pharmacy, and other locations when needed but continue to take precautions. An option many people have been using to stay home is teledentistry. By switching to digital dentistry, you are able to get the care you need from your own home. Your dentist in Pittsburgh is providing teleconsults for dentistry so you can safely practice social distancing away from the office.
What is Teledentistry?
Teledentistry is the use of information technology and telecommunications for dental care. It can consist of any of the following things:
Video calls: Having a live video call with your dental provider works great for consultations and discussing certain issues you may be having. He or she can tell you the next steps and whether or not a physical visit to the office is necessary.
Store-and-forward: This is when there is a transmission of recorded health information, like photographs, digital impressions, videos, or radiographs. This can be used for a dentist to evaluate the patient's condition in order to determine the best treatment option.
Remote patient monitoring (RPM): In this case, there is a data collection from an individual in one location which is sent to the dental provider in another location. This allows the dentist to monitor how a patient is doing without needing to be with them physically.
Mobile health: This is when health care and health education are supported by mobile devices like cell phones and tablets. This includes remote data collection, diagnostic and treatment support, and chronic disease management.
What Are the Benefits of Teledentistry?
There are a several reasons to have virtual appointments. Here are just a few:
More affordable service costs: Teledentistry has shown to reduce the cost of care.
More convenient: Recent studies have shown that 70% of patients are comfortable communicating with their healthcare providers through text, email, or video. Virtual dentistry also eliminates transportation time and reduces the frequency of in-office visits.
Improved access to care: About 20% of Americans live in rural areas where they do not have easy access to dental care or other medical services. By allowing them to be treated beyond the office, it eliminates their need to travel long distances.
Why Are People Choosing Teledentistry During The COVID-19 Pandemic?
While offices are adding many extra protocols to keep their patients safe during the pandemic, using teledentistry completely eliminates the time spent in office for consultations. In many situations, a qualified dentist would be able to know how to treat you without seeing you in real life. By using live video chat, photos, and data collection, he or she can get you the treatment you need.
Due to the changes that COVID-19 has had on everybody's life, teledentistry is a great option for those who want to seek treatment for their health while staying safely at home. Even though virtual care has been around for a few years, the pandemic has shown how advantageous it can be in our growing digital world.
About the Practice
At Advanced Dental Solutions of Pittsburgh, Dr. Dan Rairigh and Dr. Josh Culver are committed to offering the best modern technology and techniques that dentistry has to offer. In addition to convenient hours, they offer virtual online consultations. To learn more about teledentistry or make an appointment, visit their website or call (412) 854-2310.
Comments Off

on Why Do Patients Prefer Teledentistry During The COVID-19 Pandemic?
No Comments
No comments yet.
RSS feed for comments on this post.
Sorry, the comment form is closed at this time.