March 6, 2019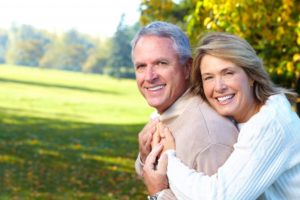 If you're thinking about tooth replacement, you're already on the right path. The last thing you should be doing is ignoring an issue that carries massive implications for your short- and long-term oral health. The next question that comes up is "which treatment route should you consider?"
While many people choose dentures to replace several teeth at once, dental implants in Upper St. Clair offer more benefits that could better fit your lifestyle. According to a dentist, here are the details you should know first and foremost.
The Facts on Dentures
Those who are looking for the most affordable solution to tooth loss will find dentures to be a great solution. Compared to the dentures of the past, these restorations are more natural-looking than ever before. Full dentures can be made to replace a full arch of teeth, while partial dentures can be made to replace a handful of teeth on opposite sides of your mouth.
Treatment time for dentures is relatively short, averaging about three to six weeks before your final prosthetic is made. Keep in mind that they are custom-made to fit the shape of your mouth for optimal comfort. However, they will take some time to get used to. You will likely need to use denture adhesive to help you adjust to their presence. You'll need to clean them every day with denture cleanser and a dedicated brush as well as keep them soaking when not in use. This maintenance is separate from oral care and the inevitable need for relining, repairing and replacement of your denture.
The Facts on Dental Implants
Dental implants take tooth replacement a step further by replacing the entire root of your missing tooth, not just the crown portion. By integrating with your existing bone tissue, you're getting a stronger and more natural replacement tooth. Furthermore, your replacement tooth lasts significantly longer than any other solution available in dentistry today, so you don't need to worry about longevity as much as you would for dentures.
With that said, dental implants:
Are the most expensive option for tooth replacement
Require the longest treatment time to complete (typically between 4 and 6 months)
Require sufficient bone volume, healthy gum tissue and oral surgery
Combining Dentures and Dental Implants
While dental implants are widely recommended thanks to their durability and long-term cost-effective qualities, many people will find traditional dentures to be a perfectly acceptable solution for replacing many teeth. But keep in mind that you can also take advantage of a treatment that combines the functions of dentures and dental implants together, or implant-retained dentures.
By placing four to six implants throughout your jaw, your custom-made denture can be designed to work in tandem with your new implants. The device can be made to hold a partial or full denture. It can also be designed to be removable or fixed, depending on your preference.
When it comes to tooth replacement, you don't have to settle for one solution. Schedule your next consultation with a dentist in Upper St. Clair today to get started!
About the Author
Dr. Dan Rairigh earned his DDS degree from the West Virginia University School of Dentistry. He's undergone extensive dental implant training at the Midwest Implant Institute. His office uses 3D cone beam scanner technology to ensure the most successful implantation possible. To learn more about his practice, you can contact him through his website.
Comments Off

on Should You Choose Dentures or Dental Implants in Upper St. Clair?
No Comments
No comments yet.
RSS feed for comments on this post.
Sorry, the comment form is closed at this time.