November 4, 2018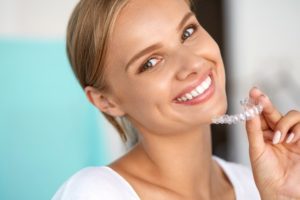 Whether you already have Invisalign in Bridgeville or you're considering these clear aligners, you're probably wondering how to take care of them. They are relatively durable, but because they are made with plastic, there are some steps you need to take to keep them clean and avoid damaging your oral health. Keep reading to learn the best ways to take care of your aligners for a beautifully straight smile.
How Should I Clean My Aligners?
Invisalign recommends using the Invisalign Cleaning System, which is available on their website and through your local dentist. However, you can also lightly brush them with a non-abrasive toothbrush and toothpaste, rinsing afterwards with lukewarm water. Make sure to never clean them using hot water because it could permanently warp the plastic, and toothpaste that is too abrasive can scratch the aligners.
Can I Stain My Aligners?
Yes! Your aligners can stain from foods with rich colors and acids like blueberries and pasta sauce. That's why it's vital that you brush your teeth after each meal. Brushing before putting your clear aligning trays back in will ensure they won't get stained or damaged.
What Should I Do if I Drop My Aligners?
If you drop your aligners, even in the safest of places, it's important that you clean them using the above tips before putting them back in your mouth. Keeping your Invisalign aligners hygienic will ensure the safety and success of your treatment.
What Should I Do If I Lose or Break My Aligners?
If you lose or break your aligners, it's imperative you contact your cosmetic dentist in Bridgeville right away. They may recommend that you wear your previous aligners, your next set, or they may order you a replacement. The most important part is that you talk to your dentist as soon as possible to stay on track with your treatment plan.
Can I Just Order Replacement Aligners Through Invisalign?
To make sure you get the best and most personalized treatment possible, your aligners must be ordered through your dentist. Since they are considered a prescription item, you should contact your dentist should you need replacements.
Now that you know how to best care for your Invisalign aligners, you can straighten your teeth in the safest and most healthy way possible!
Meet the Dentist
Dr. Dan Rairigh is proud to be able to offer expert general and cosmetic services for the whole family. He has a deep understanding of the link between your smile and confidence, which is why he offers Invisalign as a discreet way to straighten teeth. He currently practices at Advanced Dental Solutions of Pittsburgh, and he can be contacted through his website or by phone at (412) 854-2310 for any questions.
Comments Off

on How Should I Take Care of My Invisalign in Bridgeville?
No Comments
No comments yet.
RSS feed for comments on this post.
Sorry, the comment form is closed at this time.