October 6, 2018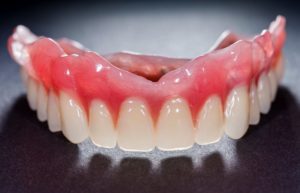 If you've been missing teeth for a long time, then you know that performing even the most basic tasks can feel daunting. Chewing foods is nearly impossible and speaking feels like a chore, so you end up not being as social as you used to be. Luckily, dentures in Bridgeville help you maintain both of these functions for many years at a time.
Before you can, you'll need to know the right steps to adjusting to your new denture once it's made. Here are five steps to consider.
Set a Reasonable Goal
Mild discomfort is very common when you wear your new denture for the first time, so don't feel bad or disappointed if they don't feel quite right at first. After all, this is a foreign object sitting inside your mouth, at least for now. For this reason, it's important to remain patient and committed to wearing your denture so it becomes more comfortable over time.
A good way to start adjusting is to manage your food portions to make chewing easier. Start with softer foods that are easier to chew, including steamed vegetables, fish, stew meat, soups and soft fruits. This will help you prepare before you switch to tougher foods like raw vegetables or crunchy fruits.
Follow Your Dentist's Instructions
Staying on top of your treatment plan is one of the best pieces of advice the dentist can give you. As mentioned, your mouth will be sore immediately following any extractions you had prior to receiving dentures. Make sure to take prescription medications as provided by the dentist to cut down discomfort you feel as you adjust.
Get Familiar With Denture Adhesive
As you begin wearing your dentures more often, ask the dentist what adhesive they would recommend. While denture adhesive is not something you should continue to rely on any longer than a couple weeks to a month after receiving dentures, they can definitely make it easier to keep them in place as your mouth begins to change shape and accommodate them. Mix and match different adhesives to see which one works best for you. Just make sure to see the dentist if they never seem to fit properly, even with adhesive.
Learning to Speak? Sing!
A great way to speak more effectively while adjusting to dentures is to sing as you speak. Singing is already a great form of speech training, so try singing along to your favorite music as a way to help you practice speaking with dentures. Singing at smooth and slower rates can help make pronouncing certain words easier in the future.
Massage Your Cheek Muscles
Your cheek muscles will eventually begin to feel sore if you wear your dentures for too long in the beginning. Make sure to allow at least one hour of rest in the first week of wear in order to prevent overworking your cheek muscles. Massage them afterwards to prevent them from becoming too sore.
Need more tips on adjusting to full or partial dentures in Bridgeville? Schedule an appointment today to get started!
About the Author
Dr. Dan Rairigh earned his DDS degree from the West Virginia University School of Dentistry. Since then, he's attended the Dawson Academy of Advanced Dental Studies to expand his knowledge in occlusion and esthetics, allowing him to learn the best techniques in creating restorations. To learn more about his practice, you can contact him through his website.
Comments Off

on How to Adjust to Your New Dentures in Bridgeville
No Comments
No comments yet.
RSS feed for comments on this post.
Sorry, the comment form is closed at this time.